---
---
The Drifters (the club that is not a car club) ended their cruise season in Trenton's Centennial Park in grand style.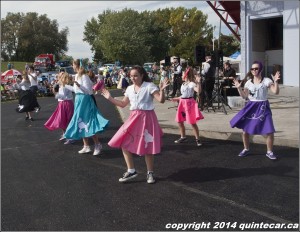 Special guests included the Reasons, the Angela Maracle Dancers, Belleville Ont. and Mr. Rock & Roll himself, Freddy Vette. The festivities began at 2:00 pm. The proceeds from a silent auction, barbecue and cold drinks sales all went in support of Quinte Access.
Freddy Vette has brought his Rockin' Road Show to all the areas cruise nights: Picton Thursday Night Cruise, Madoc Village Cruise Night and Belleville's Tuesday Night Cruise.
The Drifters have had the honour of supporting Quinte Access at all their cruises. They took a few minutes to thank Nadyne Mattis, Director of Operations for Quinte Access.
145 cars were registered and hundreds of spectators made the afternoon an event to be remembered.