---
---
A new Major League Baseball team, a new star player (with orange hair) and a brand new car, the Plymouth Duster, all came together for Orange Crush soft drink company.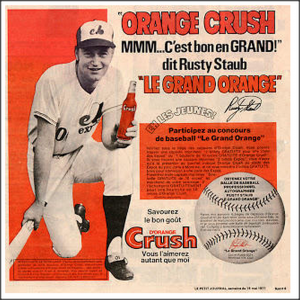 In the fall of 1969 Plymouth was introducing its new car, the Duster and the Montreal Expos teamed up with Orange Crush for a promotion featuring a custom colour car. Orange Crush hired All-Star Rusty Staub as  the pitch man (nicknamed "Le Grand Orange" for his red hair). Orange Crush Soft Drink Company did a special Canadian Nationwide promotion for a chance to win one of FIVE Orange on Orange 1971 Plymouth 340 Dusters.
1971 Plymouth 340 Duster Orange CRUSH promotional show-car Y93 code. This vehicle was built on the first day of production for the 1971 model year. The car was equipped with almost every option available for the 1971 model year. This was the first Duster produced for the program with the V.I.N. ending in 279, the last one was V.I.N. 284. The Duster was trimmed with orange interior and exterior, buckets, console, rally cluster, according to the factory fender tag.
Ralph Gray, 66 years-old from Cobourg, Ont. acquired Orange Crush five years ago. By the time Ralph got Orange Crush it had been restored. Since then he has replaced the dash and redone the instrument cluster. The drive train is a completely different matter; a stroker kit, balanced and blueprinted, aluminum heads, healthy cam, aluminum flow through intake, 780 holly, headers, 3:55 rearend, nice rims and tires have all been added. Orange Crush runs 12's in the quarter mile.
Orange Crush can be seen regularly at the Port Hope Cruise Night on Toronto Road.